Shoe Tag consists in a perforated RFID strip label that have to be fixed to the shoe through its laces.
It resists to water and repeated stress, and it is available with an adhesive pad so that it can be used as a tie also on other products like bags, handbags, etc.
It can be used for both indoor and outdoor use and it can be either blank or printed. Shape and size are customizable. The UHF tag is also available for remote reading.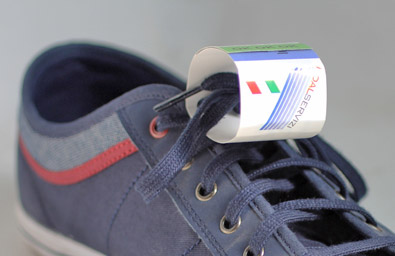 Benefits
Either just perforated or perforated with adhesive pad edition are available.
Waterproof and resistant to repeated stress.
It can be used as band on any item
It can be used either indoor or outdoor
UHF technology available
Customizable printing to satisfy our customer's requests